XFA Forms in iPhone and iPad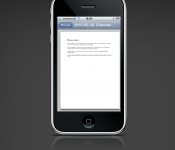 XFA forms are regularly distributed by email. As they are wrapped in a PDF wrapper, the question is – can they be viewed and interacted with on the iPhone/iPad?
Unfortunately it is difficult to get a useable version of the form onto the iPhone/iPad.
If the form was originally saved as a Static PDF, then the form will be visible on the iPhone/iPad (see below).
While the form is visible, you will not be able to interact with the form. For example, buttons will not be clickable. In addition you will not be able to get focus on a field in order to input data. Effectively "See, but don't touch".
It is even worse with Dynamic XML forms, as the iPhone/iPad will not display the form at all (see below).
The form is not available to the user.
Trying to work around this by using Safari (or any other browser) will achieve the same results, as above.
There are third party solutions, like Air Sharing from Avatron, however XFA forms are still not supported.
We await iPhone OS4, to see if it extends support for XFA forms.
Share your thoughts, post a comment.